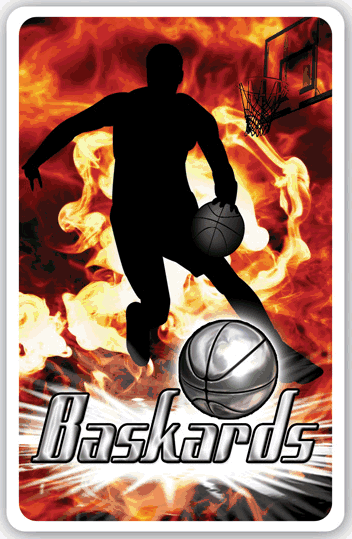 \
BASKARDS - The New Basketball Playing Card Game!
Throughout my years of experience, I've worked with many children and parents
who are very busy in many activities. I have learned why so many children
have emotional problems such as hyperactivity, attention deficiency,
obesity, and aggressiveness. On the computer, children can be
solicited by adults or kidnapped. Often, it's because they spend
too much time in front of their computers or videogames-- with no supervision.
That is why BASKARDS was born. It's a different playing card game, a first
for children with penalties, points, and more, just like a real game. It can gather
the family together-- now Mom and Dad too can spend time together and enjoy.
It can keep your children safe!
Book authors like Dr. Lisi de Bourbon and Dr. Marcus Rubin have suggested
that board games and playing card games let children encounter certain emotions
that are very different than with computers.
The game includes cards with English and Spanish instructions. It can be
played with 2 or 4 quarters or hands, for 2 or 4 players. It's recommended
for children 7 to 8 years old, or 5 to 6 years old with adult supervision.
BASKARDS, it's unique and everyone can play it.

SEE RULES:
BASKARDS IT'S A CHALLENGE...
WE DARE YOU, to play it...
Initial cost is $8.95 + $2.95 Shipping and Handling
For distributor or merchant price; get
Rologame@hotmail.com
www.Baskards.com
1-787-633-1179
3 to 7 weeks to delivery depending on location.
How to Play - - - About Baskards - - - How to Order - - - Vea Esta P ágina en el Español